Hi Everyone! 
Today, we'll be focusing on Chelsea Logistics Holdings Corp. (CLC)  from Transporation Services sector.
Whollly-owns subsidiaries of Udenna Corporation, PNX-Chelsea Shipping Corp., Fortis Tugs Corporation, Michael Inc. (MI), Bunkers Manila, Inc, (BMI), Chelsea Ship Management and Marine Services Corp., Chelsea Marine Manpower Resources, Inc., Chelsea Dockyard Corp.
Owns Phoenix Petroleum Philippies, Inc. 
Major clients include Cebu Pacific Air, Marine Fuels Philippines Inc., Petron Corporation, Seaoil Phils., Inc., Batangas Bay Carriers Inc., Unioil Petroleum Philippines Inc., Subic Petroleum Trading and Transport Corp., and Islas Tankers and Seatransport Corp.
http://www.chelsealogistics.ph
1. Basic Information:
Chelsea Logistics Holdings Corp. (CLC)
Sector: Transporation Services
2. The Company's History:
July 17, 2006: Chelsea Shipping Corp. (CSC) was incorporated.
January 1, 2007: The Company commenced its commercial operations. CSC was initially established to serve the requirements of its sister company, Phoenix Petroleum Philippines.
August 26, 2016: Chelsea Logistics Holdings Corp. (CLC) was incorporated and registered with the Securities and Exchange Commission (SEC) as Chelsea Shipping Group Corp. primarily to act as a holding company.
March 27, 2017: CLC acquired all of Udenna Investments B.V.'s (UIBV) outstanding capital stock through a share swap agreement with Udenna Corporation. UIBV owns 80% economic interest and 39.97% of the voting rights in KGLI-NM Holdings, Inc., which holds 39.85% economic interest in and owns 60% of the voting stock in Negros Navigration Co., Inc. (Nenaco). Nenaco, in turn, owns 88.31% of 2GO Group, Inc. (2GO). Hence, CLC has a 28.15% indirect economic interest in 2GO.
March 31, 2017: CLC has 11 tankers, 8 tugboats, 7 RoPax (roll-on, roll-off with passengers and cargo), 4 barges, 3 cargo vessels. 2GO has a seperate fleet of 16 RoPax and 8 cargo vessels.
<Here's the Company's Stock Data for the past year 2017-2018>
<Stock Data of the Company for the past 10 years 2008-2018>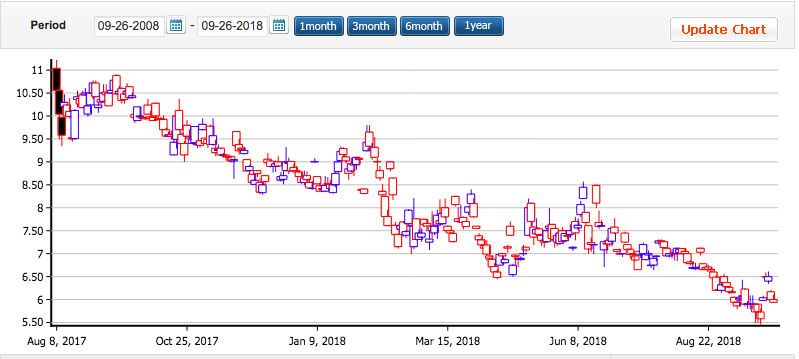 3. Present stock (2018/9/26)
For the fiscal year ended: Dec. 31, 2017
Currency: Philippine Pesos (PHP)
4. Chairman of the Board
Chairman: Dennis A. Uy
Nationality: Filipino
Age: 43 
Education:  Business Management at De La Salle University
Background: 
 - Founder and Chairman of Chelsea Logistics Holdings Corp.
 - Chairman and President of Udenna Corporation
 - Chairman of Phoenix Philippines Foundation and Udenna Foundation
 - Independent Director of Apex Mining Corp.
 - Honorary Consul of Kazakhstan of the Philippines
 - Currently developing a Casino and Resort in Cebu
Net worth: PHP 430 Million
5. News
May 10, 2018
Chelsea Logistics profit surges in 1st Quarter of 2018
http://www.chelsealogistics.ph/investor-relations/news/chelsea-logistics-profit-surges-in-q1
May 9, 2018
PCC approves megere of Dennis Uy's Udenna with 2GO Shareholder
http://www.chelsealogistics.ph/investor-relations/news/pcc-approves-merger-of-dennis-uy-s-udenna-with-2go-shareholder