Hi Everyone!
Today, we'll be starting to discuss about companies from Mining and Oil Industry. Starting from this report until to the next four reports, we'll understand on the current situation of stocks of these companies with the continous global oil price hike. We'll start with Nickel Asia Corporation (NIKL).
Nickel Asia Corporation is the Philippines' largest producer of lateritic ore, and one of the largest in the world.
The Company exports saprolite and limonite ore to customers in Japan, China and Australia.
The Company owns 4 operating mines located in the southern half of the country.
NIKL owns 86% of EPI, which has solar, wind and geothermal services contracts in Subic Bay Freeport and Biliran, Leyte.
Japan's Sumitomo Metal Mining owns nearly one-fifth (1/5).
1. Basic Information:
Nickel Asia Corporation (NIKL)
Sector: Mining and Oil
2. The Company's History:
1977:  first operation in Rio Tuba made its first ore shipment to Japan.
July 24, 2008:  Nickel Asia Corporation (NIKL) was incorporated with the Securities and Exchange Commission primarily to engage in the business of mining of all kinds of ore, metals and minerals and in the business of generation, transmission, distribution and supply of electricity to cities and other localities.
November 22, 2010:  The Company's listing date to PSE
2015: NIKL formalized its entry into the renewable power business through a debt-to-equity conversion and additional equity infusion into Emerging Power. Inc. (EPI)
August 2015:  The Company concluded the purchase of 100% interest in Geogen Corporation, which is the claim owner of the Isabela nickel project in Dinapigue, Isabela.
December 2016: NIKL wholly owns Hinatuan Mining Corporation, Cagdianao Mining Corporation; Samar Nickel Mining Resources Corporation; and Geogen Corporation.
<Here's the Company's Stock Data for the past year 2017-2018>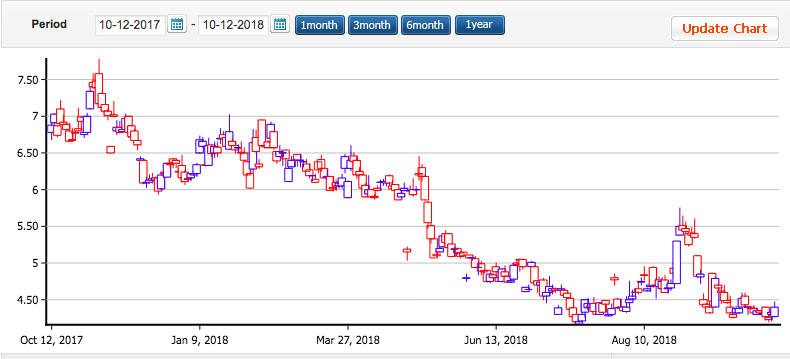 <The Company's Stock Data since 2010 until 2018>
3. Present Stock (2018/10/12)
For the fiscal year ended: Dec. 31, 2017
Currency: Philippine Pesos (PHP)
4. Chairman of the Board
Chairman: Manuel B. Zamora, Jr.
Age: 80
Nationality: Filipino
Education: 
 - Bachelor of Laws degree from the University of the Philippines
 - Bachelor of Science from University of the Philippines as well as Associate Degree in Arts.
Net worth: US$ 240 million
Background:
 - Chairman and founder of Nickel Asia Corporation
 - Chairman of RTN, TMC, CEXCI, THPAL, CBNC and Informatics Holdings Philippines, Inc.
 - Director of EPI, CLSA Exchange Capital, Inc., Hinatuan Mining Corporation, and Cagdianao Mining Corporation
 - Vice Chairman of the Board of Trustees of St. Luke's Medical Center
 - Lawyer and member of the Integrated Bar of the Philippines
 - Placed third in the 1961 Bar Examinations
5. News
August 9, 2018
NAC net income rises 1.94% amid challenges
https://business.inquirer.net/255365/nac-net-income-rises-1-94-amid-challenges-nac-indonesia-nickel-asia-corp-currency-ore
May 28, 2018
Mining firm bullish on nickel prospects
https://business.inquirer.net/251561/mining-firm-bullish-nickel-prospects