hi everyone
Today, we focus on " Bloomberry Resorts Corporation"
The owner of "Solaire Resort & Casino"
This company have also Jeju Sun Hotel & Casino in Jeju Island.
http://www.bloomberry.ph/home/
1. Basic information
Bloomberry Resorts Corporation(BLOOM)
Services/Casinos & Gaming
May 3, 1999:registered with the Securities and Exchange Commission (SEC)
1999-2003: a manufacturer of consumer communication and electronic equipment operating
2012: Change the prpose of company to hotel and/or gaming and entertainment business
<10 years>
<1 year>
3. Present stock(2018/9/7)
For the fiscal year ended : Dec 31, 2017
*Last Traded Price: 9.16
*Earnings/(Loss) Per Share (Basic):0.55
*PER=9.16/0.55=16.65
*Book Value Per Share:3.13
*PBR=9.16/3.13=2.93
*ROE=0.55/3.13=17.57%
*Operating margin:17.15%
*Sales depelopment(2017/2016)=120%
*Total Liabilities:86,432 MPHP(A)
*Retained Earnings/(Deficit):10,323 MPHP(B)
*Income/(Loss) Before Tax:6,295 MPHP(C)
*A/B=837%
*A/C=1373%
4. Directors of Board
Chairman: Enrique K. Razon, Jr.
born March 3, 1960
Razon's grandfather established Manila's main port in South Harbor.
He shares the same name with his father, Enrique Razon, who built the business through World War II.
In 2010,Razon invested an additional USD200 million in Bloomberry Investments Holdings, Inc.
Education De La Salle University
Net worth $4 billion (June 2018)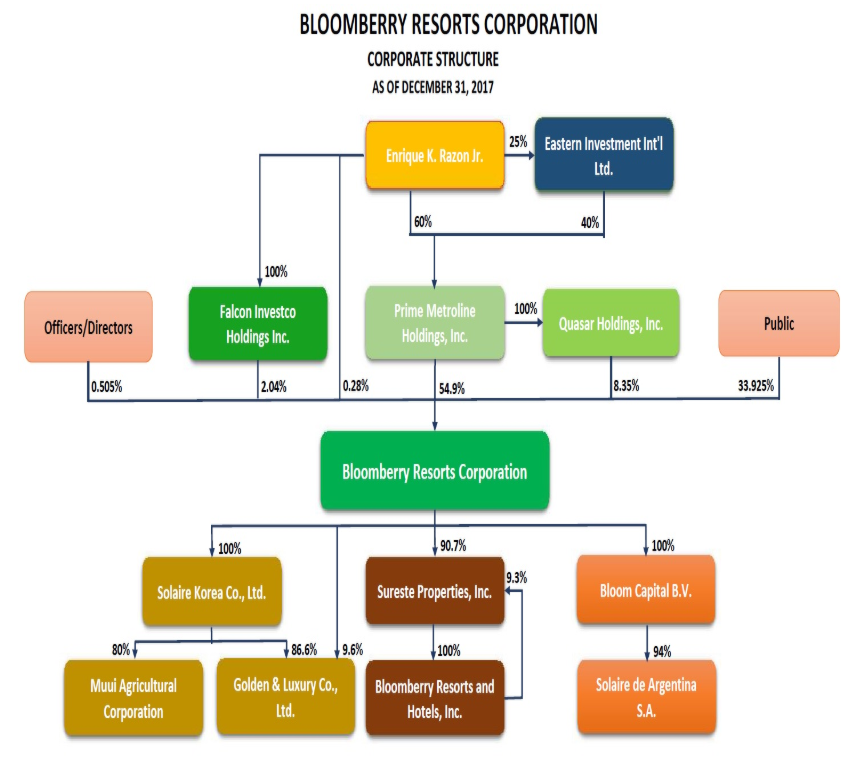 5.News
August 10, 2018 - 12:00am
Bloomberry earnings drop 20% to P1.64 billion in Q2
https://www.philstar.com/business/2018/08/10/1841125/bloomberry-earnings-drop-20-p164-billion-q2